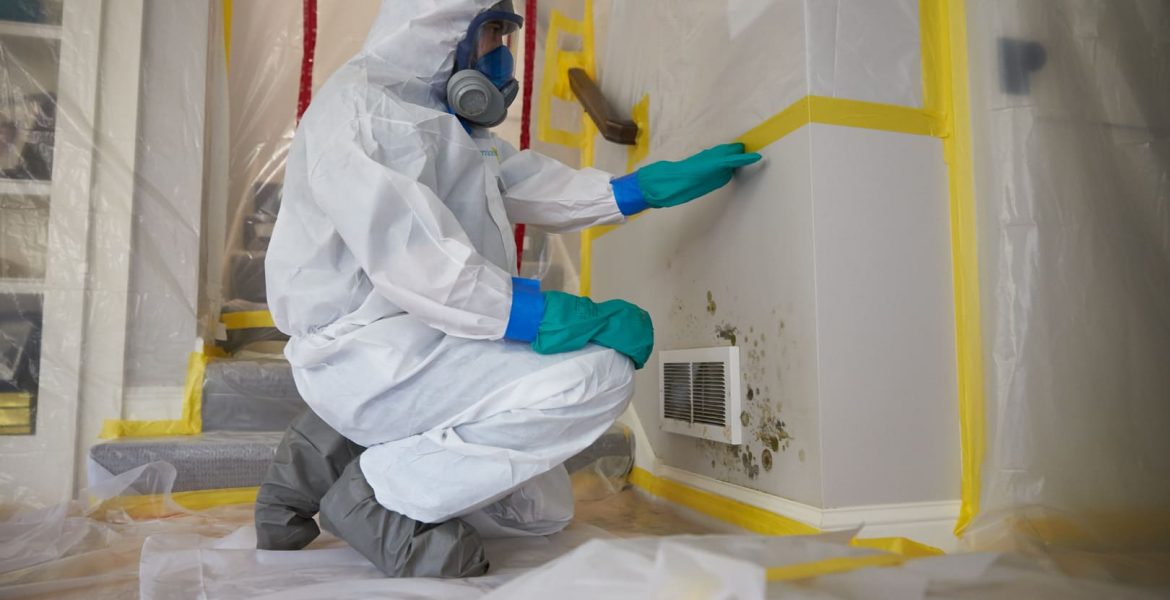 Mold remediation classes help you protect your health and save property
When the owners see dark spots of mold on the walls or ceiling in their apartment they get upset because it does not look aesthetically pleasing at all. The same can be said about mold on furniture, books and clothes that have been lying in the wardrobe for a long time. However, it should be noticed that the danger here is not only in property damage, but also potential health problems which can be very serious. By taking mold remediation classes you'll be able to help yourself and others cope with this problem.
What is mold and why is it harmful?
The mold that we can observe at home is a fungus which develops from a spore.
A spore is a microorganism protected by a hard shell. The mold that develops from it is a multicellular organism formed by long fibrous filaments (hyphae). Moreover, it grows out of the spore very fast, "capturing" the surrounding surface.
Nature made sure that spores could endure difficult conditions, they are carried with air, cling to objects. And in order for mold to begin to sprout from this "capsule", certain favorable factors are required, which we create ourselves in our homes:
Increased air temperature (many people turn on heaters in order to warm up).
High humidity (for example, laundry is often left to dry for a long time, puddles which remain on the floor after bathing, floor mats, which do not dry, etc.).
Lack of access to fresh air (insufficient ventilation of the premises).
If you take the course, at the mold remediation classes you will learn that different types of mold can grow on almost any surface: concrete, wood, paper, fabric, food. The fungus usually settles next to plastic windows, because condensation sometimes accumulates there. Over time, mold can destroy walls, ceilings, and floors in a room.
Black, white and other types of mold dangerous to health
There are many types of fungi that differ in color and shape. Here are the main ones:
Black mold. Traditionally, it affects building materials (stone, concrete walls, surfaces treated with paint, plaster, wallpapers). At first, the fungus is located pointwise, with time it increases in size and forms an almost uniform surface.
Blue mold. It has a detrimental effect on timber. Therefore, the owners of wooden buildings need to be especially vigilant.
Green mold. It mainly lives in organic materials, food. This type of mold resembles moss and has an uneven surface.
White mold. It affects  indoor plants.
Ways of infection of the body: through food, air in the room and direct contact
Mold can penetrate the human body and cause various problems there in various ways and everyone who has ever attended mold remediation classes knows about it:
Air way. Mold spores are suspended in the air. They easily enter the human respiratory tract and then spread  inside the body. At the same time, spores are known to be powerful allergens.
Eating moldy foods. Of course, if mold has affected the product, this immediately becomes clear by particular smell. However, some people don't throw away such food, but simply remove the spoiled layer from the bread or cut off the green flesh from the fruit. This won't solve the problem because the mold fibers go deep inside. As a result, a person gets food poisoning, sometimes very strong (the body becomes intoxicated).
Touching the mold. Upon contact of human skin with mold, mycoses (a type of skin disease) can occur, this is especially likely to happen to people with reduced immunity. Not only the upper layers of the epidermis are affected, but also the subcutaneous fat. Fungi can go further, causing diseases of the muscles, bones, penetrating into the internal organs.
If you want to know more about the types of mold, its harmful effect on the human body and different ways to get rid of this annoying problem, you should take mold remediation classes and approach this issue professionally.
Our limousine service ri include Providence and Newport, RI. Extending to major and private airports, train stations and all occasions.